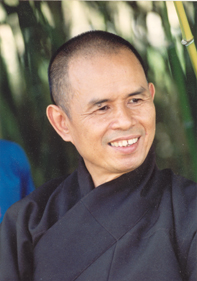 I recently completed reading Thich Nhat Hanh's book, Creating True Peace in February of this year. I must say, it is one of the most profound books I have ever chanced upon.

Thich Nhat Hanh (pronounced Tick-Naught-Hawn) is a Buddhist Monk who was exiled from his homeland back in the mid-seventies when the Vietnam War was raging and anyone who spoke out against it was treated with suspicion and labeled by both sides as either a tratior, a seditionist and/or a Communist - anything but a pacifist.

This wonderfully kind man now resides in France where he has founded a Buddhist commune called Plum Village.

He has authored numerous books and offers teachings on Buddhism. Two of my favorite books he wrote are Anger, and Meditations on Love - both books are highly recommended. You can find many of his lectures and teachings on the internet. I am tempted to summarize the book and maybe go into a detailed analysis of it but it is a relatively short read - 206 pages, a very fast read - and offers far better treatment of the subject than anything I could do here. Suffice it to say, Creating True Peace is one of those books you will want to hang on to for the rest of your life because it is simple and direct. Without shame, Thich Nhat Hanh demonstrates Creating True Peace takes far greater courage than the alternative. The message that comes from this Buddhist Philosopher's perspective is simple; peace is available to anyone who seeks it.

As a Roman Catholic, I am quite intrigued at the similarity of Thich Nhat Hanh's musings and the teachings of Jesus of Nazareth. When I was younger, I would have avoided such a book simply because I thought it would be in direct opposition to my core beliefs and my religious upbringing. Nothing could be further from the truth.

My life experience is, God or the Supreme Being, Creator - or whatever other description one might choose to describe this supernatural force exists. We know this implicitly; none of us has ever physically experienced it through our five senses. I am convinced God is far too big to be limited by any one particular religion - much as we would like to, we cannot put parenthesis on the creative force responsible for the Universe.

I think it is more than mere coincidence that concepts of good and evil - at least in my limited world view - seem to be universal. Consequently, I think God reaches out and communicates to us in ways which we might understand. I am quite fond of this saying;

"When you speak to a person in your language, you have made an acquaintance. When you speak to that same person in his/her language, you have made a friend."
I believe God reaches out to us with a language of the familiar - tailored to each of our unique life experiences. He communicates with us in the language of a kindred spirit. As such, to the Scientist, he reaches out with the language of science. To the Bedouin, he reaches out with the constructs familiar to a Bedouin. I could go on but I think you get the picture.

At any rate, I hope you do pick up this book because it's author has tapped into that mysterious energy of the Universe. What he has to say about it is enlightening - in no way threatening – that is, unless you are a hater.

Peace,
J

Note: You can click on the bold-faced words in this post for links that take you to sites directly related to the high-lighted topics and offer more details than I can write about here. I'm trying to keep these posts short.